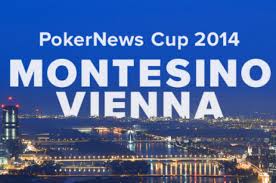 Friday, 20th November ended with another German winning the poker competition that took place in Rozvadov in the Czech Republic. Jens Dengler led the pack of over 200 poker players who participated in the ongoing PokerNews Cup being held at the King's Casino. The opening game on Day One was won by another German, Timothy Weltner, who led a group of 163 participants. Friday's highly competitive poker game saw many determined players fall on the wayside, leaving only a small fraction of entrants to proceed to the next day. Only 36 players secured positions of play in the Sunday event.
Dengler Now 2nd to Staniukynas' In Chips Count
Earlier in the day, Lithuanias' Rytas Staniukynas had left the poker tables as the winner, managing to pile chips to the tune of 446,000. It, therefore, means that Jens Dengler is hot on his heels with a chips count of 412,000. Those who followed Dengler in chips count included Marek Bartoszewicz with 305,000 chips; Robert Obrtlik with 259,500 chips; Michael Waldmann with 247,500 chips; and Lucian Ene with 224,500. These great poker players hail from Poland, Slovakia, Germany and Romania respectively. This diversity of participants must be one reason the PokerNews Cup draws great attention from poker fans beyond the host country.
Restrictive Poker Law in Germany
It is easy to develop a wrong presumption about the legality of poker in Germany, especially looking at the number of German poker players doing well in the game on the international scene. The country has players who rank highly according to the Global Poker Index (GPI). Ole Schemion, for example, topped the list in 2013 and his cash winnings total over $5 million. Marvin Rettenmaier is another poker giant who draws the poker limelight to Germany. Rettenmaier's cash winnings are well over $3 million.
Surprisingly, the only places where state laws allow poker to be played at a serious level are state owned casinos. Independent business people may be running those casinos that offer poker tables and other gaming facilities, but they do that on behalf of the various states that have legalized them.
When it comes to online poker, everyone understands its restrictions. In fact, only one of Germany's sixteen states, Schleswig-Holstein, has legalized online poker. And it did it in 2011, the same time it legalized sports betting. However, poker enthusiasts in Germany still get to play online poker liberally as they have access to foreign based sites that host the game. It is, therefore, possible that many Germans hone their poker skills better online than in brick in mortar casinos. In any case, the whole of Germany has around 50 or so casinos that provide around 17 poker rooms. It may look a bit odd when people realize how conservative Germany is on the gambling front, especially considering that there was a casino established in the country, specifically in Baden, back in 1765.
Pokernews to Resume 21st November
Anticipation is still rife in Rozvadov where the PokerNews Cup is set to resume on 21st November. The tournament, which has attracted poker players who practice in conventional casinos as well as those glued on the web playing online poker, is set to continue until Monday, 23rd November. And the activities will have covered eleven tournaments by then. Until this year's Cup champion emerges on that day, PokerNews Cup champion remains German poker player, Kristian Krupp who won the 8th edition of the PokerNews Cup and took away prize money totaling €57,473. Poker fans are, obviously, eager to see if it will be another German win in this 9th edition of the PokerNews Cup championship.