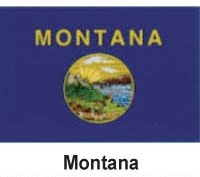 Montana has one thing in its favor that its borderlines are shared with Canada and this fact can change the destiny of online poker within the state. It is very sad that from 2013 till now there is no one taking the initiative of making online poker legal in the state.
As per law of Montana, poker is legalized by the state according to the gambling laws and that can be implemented on the online poker as well. Many online poker players will also become worried about the future of legal online poker because the online gambling is banned by the state authorities, since 2005. But you can enjoy poker in clubs and casinos without any problem because that is protected by the state gambling law.
Montana is home to online poker since it was introduced on internet and there was a time when there were more than 50 Poker cards rooms were offered in this state, for the people. Many of these card rooms were organized by the local service providers with the help of each other. There are numerous names such as Cat's Paw Poker Room, Cathy and Karen's Card Room, The Betsy, Good Time Charlie's Poker room and many other poker rooms that were offered to the people.
People also faced lots of problems when the pot sizes were limited to $300 per day only when tournaments take place. You can also buy in limits but in 2013 relief was given by the state authorities so people can enjoy lot more than they were enjoying in poker under strict rules. In 2013, bill was passed that allowed people to play with $800 and poker rooms can held poker tournaments on regular basis. Since 1980s, it was the first time that pot limits were increased by the state government.
This change has proved to be major turnaround in the local online poker industry because this industry required support for staying in the business. In 2009, more than 434 poker tables were declined by the state government and now there are very few handful tables are remaining. The similar logic could be applied on online poker but that is not the case in Montana.
When Can I Play Online Poker Legally in Montana?
Montana do possess great casino industry including 10 Native American casinos but that is not going to help anywhere in making online poker legalized. There is only one chance of online poker survival that all the localized card rooms should join the people that are doing their best to make online poker legal in the state.
There are very serious steps required for making online poker legal in Montana but as far it seems there is no hope in this decade to enjoy online poker legally in Montana.
What is the Potential Online Poker Market in Montana?
There are more than 63,000 people living in the Montana that are above 21 and can play online poker. It is for sure that Montana and other small states can enjoy great revenues from online casinos.