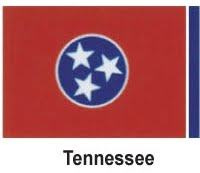 Tennessee is not paying any sort of attention to make online poker legal in the state as lawmakers are keener on some other matters. Tennessee is very religious place that is strongly against gambling and if online poker bill is represented in front of the lawmakers then it won't get their approval. It is also making impact on the current political situation as introducing this idea might lead to re-election.
Online poker idea is not apt in Tennessee as there are many people that are against gambling acts and games because of their religious values. There is only one hope that people of Tennessee should come together to force the lawmakers to pass the online poker bill. Without the help of local people, it is impossible to make online poker legal in the Tennessee.
If anyone found playing poker or other gambling games then they will face serious charges. Police is actively conducting raids even if there are very few fines such as $1 to $50 if caught playing poker and $250 with Class B misdemeanor for organizing poker tournament. Law Enforcers and Lawmakers both are really against any kind of gambling activity inside the boundaries of Tennessee.
Democrat Tennessee Senator Estes Kefauver made headlines by helping gambling enterprises and he had to leave the politics under tremendous pressure of local public. This happened in 1950s but the tradition of punishing people that are involved in gambling still remains the same.
It is very clear that gambling has made many states very famous such as Las Vegas. If Las Vegas hasn't legalized the gambling then it would be only a rail depot in the desert.
PBS.org stated that casino operators were getting anxious after getting the news that Kefauver won't help in facing the committee that is coming for the visit. It really made impact on the casino owners because they were not sure about their deep connection with the lawmakers. One of the Syndicate member stated that "you just got to the point where bribe is not required at least in Nevada for keeping all the things on right place.
In 2013, 13 people were charged for playing poker in Tennessee and legal trails were conducted by the courts. It is very clear that you should only play poker for fun, not for the money if you want to avoid the legal complications.
When Can I Play Online Poker in Tennessee?
Tennessee is not offering any kind of legal gambling to their residents and Tennessee joins Utah as both the states are strictly against the poker and other gambling games. There are no casinos or in the Tennessee and with very powerful religious influence on the lawmakers, it denies any opportunity to make online poker legal.
It is very clear that Tennessee is a wasteland of online poker and if anyone is founded playing poker then they will face serious legal actions. Even there is federal law that offers freedom to play poker in the entire country but Tennessee has opted out from providing such service.