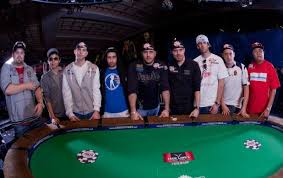 November 8th began with excitement in Las Vegas, not because its casinos were busy, but because the long awaited November Nine had come. Online poker players and poker players who frequent brick and mortar casinos switched their focus from their usual tables to Las Vegas where the finals of the WSOP tournament had begun. They were not disappointed. Even for the hundreds of thousands of poker fans who could not make it to Las Vegas, ESPN has been at hand to broadcast the tournament live. As the poker tournament approaches the end, only three out of the group of nine formidable poker players are still in the game.
Sequence of Elimination
On the tournament's first day, three players were eliminated. They included Patrick Chan, the 26yr old poker player who is American; Federico Butteroni, the 25yr old Italian; and Pierre Neuville, the septuagenarian poker player who is Belgian. Luckily, in the US states that have legalized online poker and other conventional betting games, there is no maximum age limit. That is why poker tables have interesting combinations of players of diverse ages and experience.
On this second day of the WSOP tournament, three other poker players have fallen on the wayside. They include the baby of the tournament whose sharpening ground was online poker, 23yr old Thomas Cannuli who entered the finals with 12,250,000 chips, Zvi Stern, who made it to the November Nine with 29,800,000 chips, and Max Steinberg, who started off on Day 1 with 20,200,000 chips. Cannuli is American, Stern, Israeli, and Steinberg, American.
Prize Money
None of the six poker finalists was to go home empty handed. Thomas Cannuli who took Position 6 received $1,426,283 in prize money; Zvi Stern who took Position 5 received $1,911,423; and Max Steinberg who took Position 4 received $2,615,361. Those who were eliminated on the first day had also made their mark in the books of the WSOP. Every poker fan now knows their name. As such, they also did not leave the poker table empty handed. Pierre Neuville, who left in Position 7 received prize money totaling $1,203,293; Federico Butteroni who took Position 8 received $1,097,056; while Patrick Chan who took Position 9 received $1,001,020.
A million in US dollars is not small money whether it is won through online poker, conventional poker tournament or any other game. Yet, every competitor in the finals of the WSOP series has had his eyes on the winner's prize – $7,683,346. Now the contenders for that big prize are only three: Joe McKeehen, Neil Blumenfield & Josh Beckley. At this stage, any one of these impressive poker players can win the tournament.
However, taking into consideration the stack of chips that each of them has, Joe McKeehen seems to have an edge over his colleagues. He has 128,825,000 chips while his competitors, Neil Blumenfield and Joshua Beckley have 40,125,000 and 23,700,000 respectively. Incidentally, the three finalists in this poker tournament are all Americans. That means there is still a great viewership of the WSOP finals on ESPN due to the home fan base.
Don't Miss the Last WSOP Poker Game
The three lucky poker giants – McKeehen, Blumenfield and Beckley – will wrestle at the poker tables at 6pm, Tuesday the 10th. ESPN is expected to air the games live till the WSOP champion of the year is known. The star of the night will not only bag a lovely sum of $7,683,346 but will also receive a precious gold bracelet. It will be interesting to see how Blumenfield, the Sexagenarian will use his experience against the two young poker players.