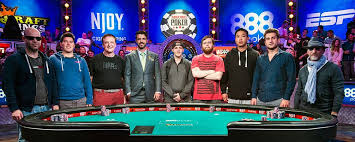 The long awaited November Nine is underway and each of the WSOP finalists is hoping to clinch the championship this year. Some of the poker competitors have their hopes even higher. 23yr old Tom Cannuli, for example, has expressed his dream of one day becoming an inductee to the WSOP hall of fame.
Cannuli's Poker Life
It may sound amusing to purport to discuss the poker life of a 23yr old in a tournament where there are veterans like 71yr old Pierre Neuville, but this young poker player from New Jersey has experienced a lot that many older poker players have not. He has seen the good fortunes of poker and the bad is his young life. He got fascinated with online poker after a friend to his father, Joey Scarlotta, introduced him to it at the age of 15yrs. And before his debut into the world of online poker, Cannuli was already a sporty boy. He played basketball and shooting hoops; video games, particularly, halo 2; and even paintball. However, what fascinated him most about poker is the thrill of outdoing somebody else's brain.
As a beginner in online poker, Cannuli tried his hand playing freerolls. After his first win, he embarked on consolidating a bankroll and soon became a regular online poker player. He began lowly at $10 sit-n-go's, and then proceeded to play cash games. That is how he developed his poker skills. While still a high school student, Cannuli managed to build himself a 6-figure bankroll and began his way to becoming a formidable poker player.
He did not proceed to college after high school. Instead, he chose to pursue a career in poker, sharpening his skills and aiming to be the best player the poker arena has ever seen. Then came a sad day in April 2011 when the federal authorities clamped the activities at three of the most significant online poker sites – PokerStars; Full Tilt Poker; as well as Absolute Poker. The authorities used provisions of the Illegal Gambling Business Act of 1955 and those of Unlawful Internet Gambling Enforcement Act of 2006 (UIGEA) to ban poker activity on those sites and the freeze went on for a whole year.
Cannuli was devastated as poker was the only life he knew as far as career was concerned. Not surprisingly, many more avid poker players were adversely affected as well. That day when the U.S. Department of Justice indicted the online site owners came to be known in the poker scene as Black Friday.
Cannuli Is Focused On Poker Heights
Not only does Cannuli want to enter the poker hall of fame. He also wants to win as many bracelets as is possible in the competitive poker arena. And deriving motivation from elderly November Nine finalists like Neil Blumenfield and Pierre Neuville who have crossed the age of 60 and 70 years respectively, Tom Cannuli looks forward to playing competitive poker till he is 80 or even 90 years old.
However, right now his focus is on the ongoing WSOP finals where he is recognized as a serious contender for the championship. He came onto the final table with 12.25 million in chips, and he aims to clinch the biggest prize of the poker tournament – $7.7 million in cash! However, he cherishes the bracelet more. And when the curtain comes down after three days of intense poker play, the world will know if young Cannuli's dream of wearing a poker bracelet will have been realized. His hopes are high despite the fact that his stack of chips is nowhere near the top. Zvi Stern has the chips lead with 29.8 million.